Welcome to World FreeRice Week!
Free Rice is a browser trivia game where you answer questions from the fields of math, English, geography, chemistry, the arts, and even foreign language learning. The goal is to progress through 60 increasingly difficult levels while gaining grains of rice for correct answers.
The twist is that the rice you earn is not merely a score indicator. Each grain of virtual rice you accrue donates 10 grains of real rice to World Food Programme, the largest organization fighting hunger.
What could be better, right? Well, how about the 6 Degrees of FreeRice special event where you can compete to win Flip cameras and T-shirts! You may know the 6 Degrees of Separation theory: You and I are connected to every other person on earth through, at most, six other people. How about letting those six people know about World FreeRice Week and together see if we can end world hunger. Sound lofty? We won't know until we try!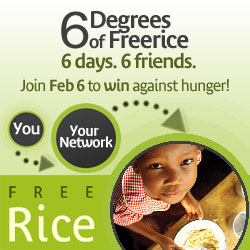 So, come on! Put the Facebook games and Xbox controllers aside for six days. All the overpriced DLC and Zynga spam will be waiting for you when you get back. Round up six friends and play a game where the score really matters for a change. Log on to FreeRice.com, change the world, become smarter, and win cool stuff.
FreeRice has over one million registered players answering nearly 2.5 million trivia questions every day. Recently Freerice was named one of the best charity sites of 2011 by Netted, an online publication from the creators of The Webbys, the Internet's foremost 'Best of the Web' awards.